Join Us Every Sunday for Fun, Flexible 2-hour Coding Workshops at UCSD!
Mark your calendars: Sunday workshops will not be held on May 5, 2019 due to a Hackathon at UCSD.
Also, Sunday workshops will not be held on June 16, 2019 due to UCSD's Commencement Weekend.
But we will be open for business every other Sunday!
Workshop Details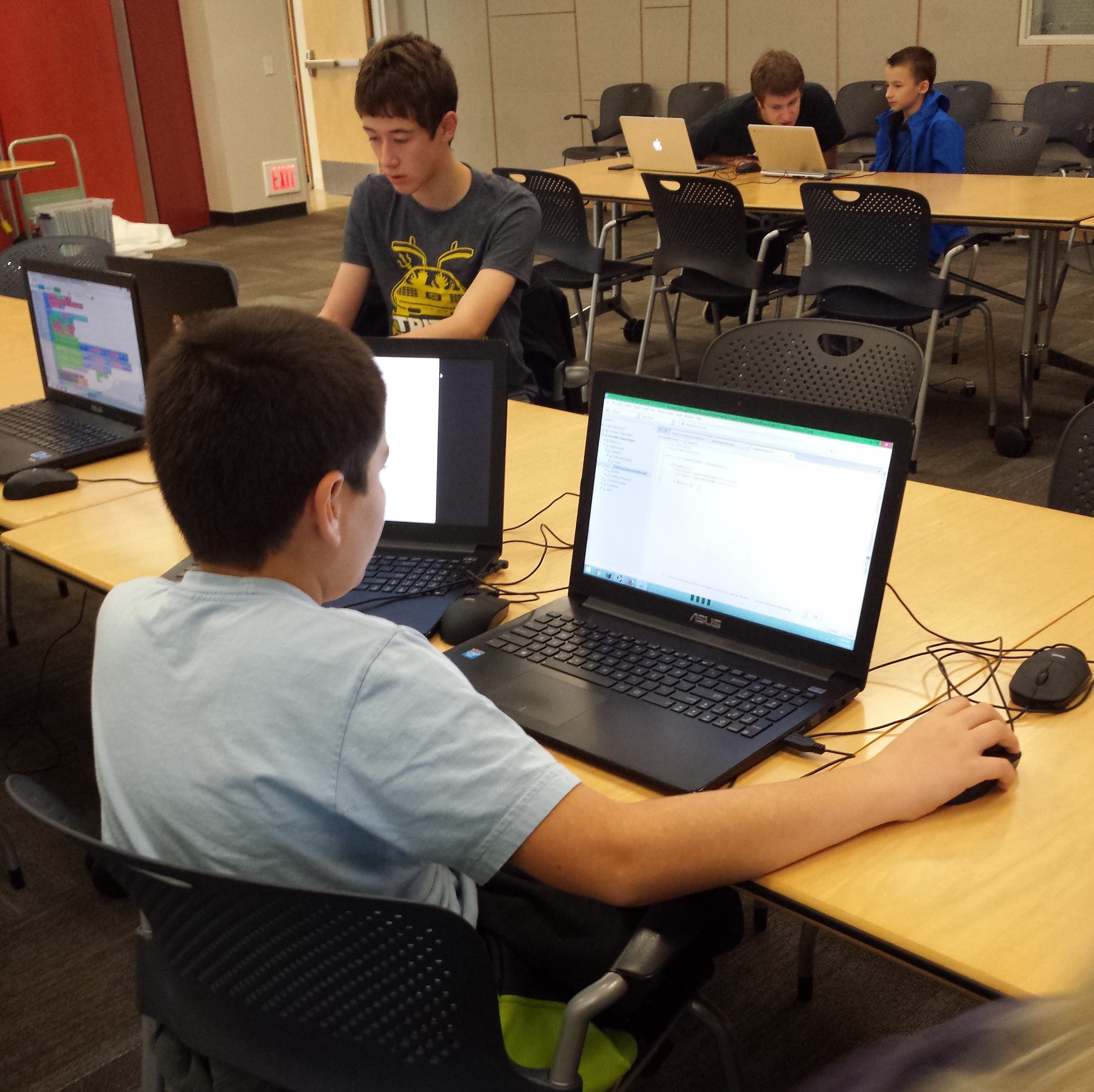 Time
Every Sunday at UC San Diego there are two different workshops:


Morning Session: 10am - 12pm




Afternoon Session: 1pm - 3pm

Place
UCSD Computer Science Building, Room 1202 (Click for directions)
Ages
Appropriate for students 8-18 years old
Enroll

1 workshop for 1 student ($50 per workshop): Enroll Now!

Discount for 2 Sessions - Same Day (plus monitored lunch break) for 1 student ($90 per day): Enroll Now!

Have more than one student? Want to buy workshops in bulk? Discounts Available
More info: Call (858) 869-9430 or email us at contact@thoughtstem.com
A Fun Way for Children 8-18 to Learn Computer Science
Write code. Earn prizes. These are fast-paced, exciting workshops where students of all ages choose from a variety of challenges designed to introduce them to programming. Students can join at any time because the challenges are self-paced. No lectures; students learn by doing with the help of our expert teachers and college mentors.
Beginner: Visual Programming with Scratch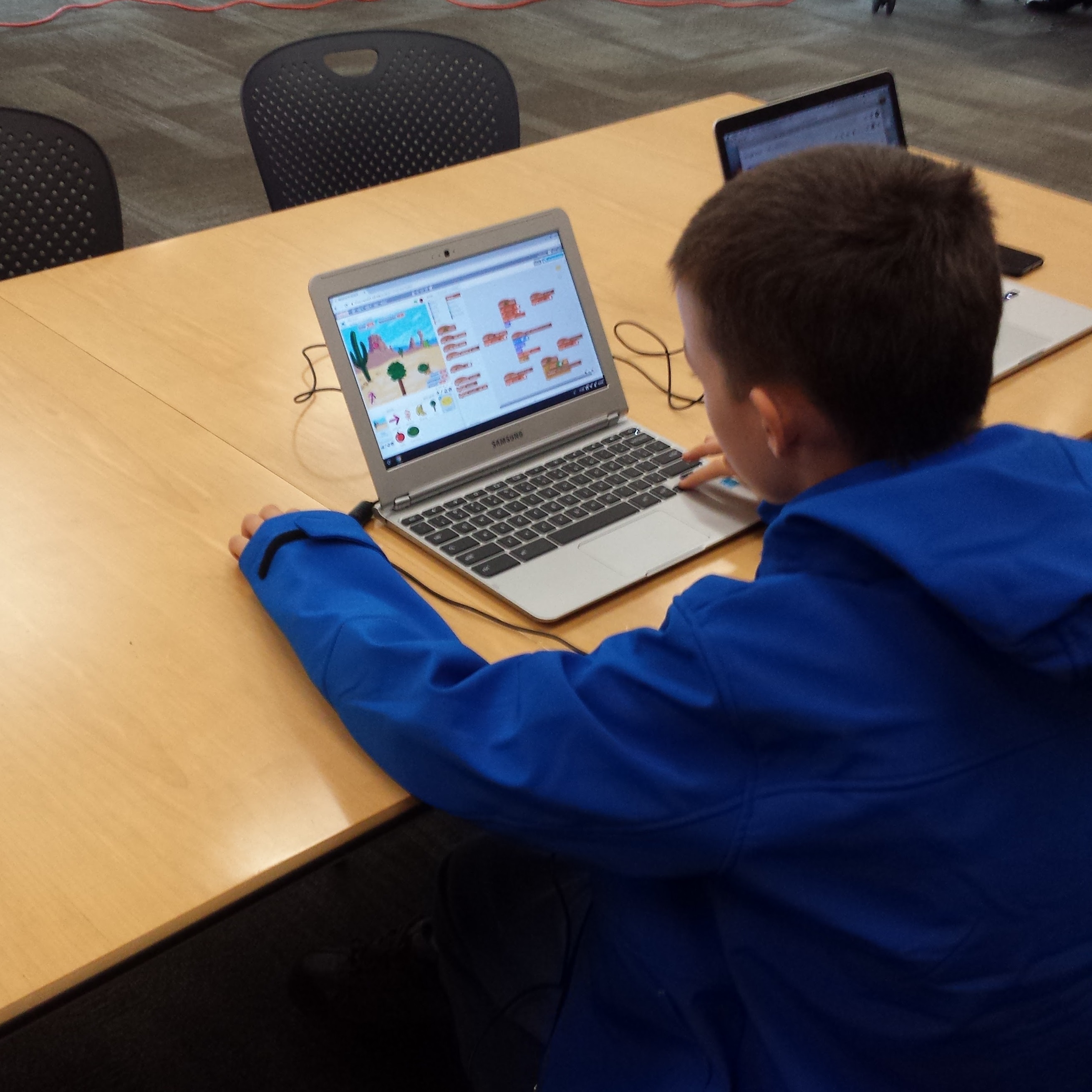 Beginning students start with simple projects in Scratch, which build in complexity to teach students how to think like a programmer. By completing challenges, students earn "achievement cards," which makes it easy to track progress and motivate student to tackle more complex projects every weekend!
Intermediate: Javascript, the Language of the Web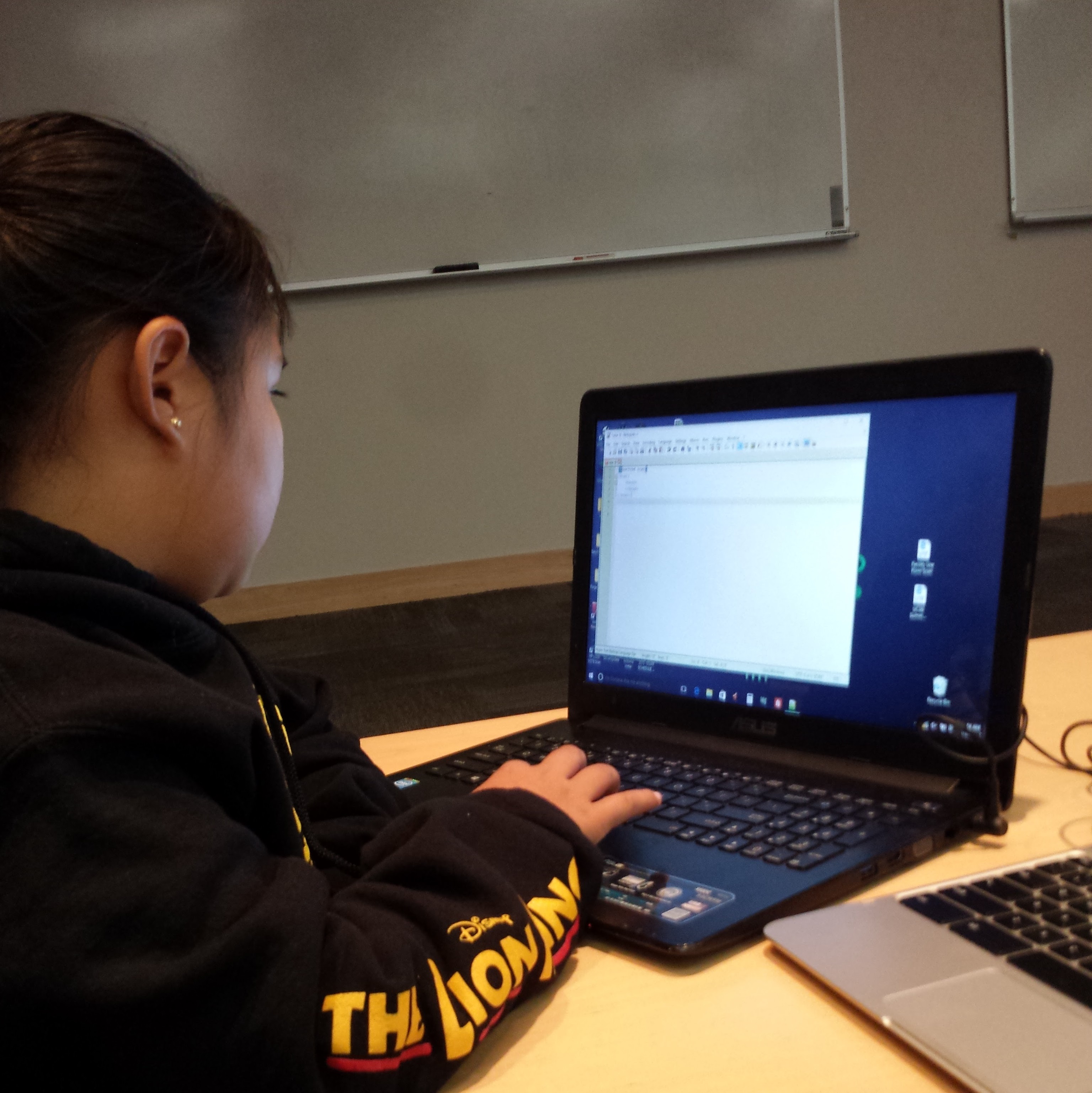 After students master the basics of coding with Scratch, students are challenged to start building their own websites with Javascript! With their new Javascript skills, they can build awesome, interactive web pages that are more dynamic and user-friendly. Their web pages can be based around their passions, whether they are photography, books, video games, or more. With their Javascript knowledge, they will have learned fundamental computer science concepts like data types, variables, functions, loops and conditionals, which can be applied to learning other programming languages in the future.
Advanced: Java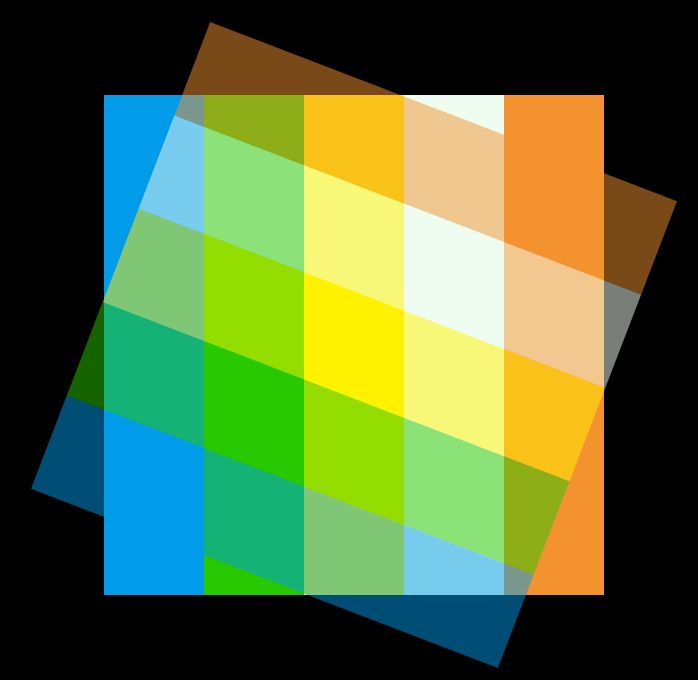 Processing is a computer programming framework that allows students to learn the Java language in an unbelievably fun way. Processing is all about visual expression. Students will be able to draw shapes with code instantly and create breath-taking games and animations. As they progress, they can integrate concepts such as sound-sensing, blob-detection and colorful particle effects. Students learn the basics of computer science, color theory and visual design.
Advanced: Unity, Video Game Development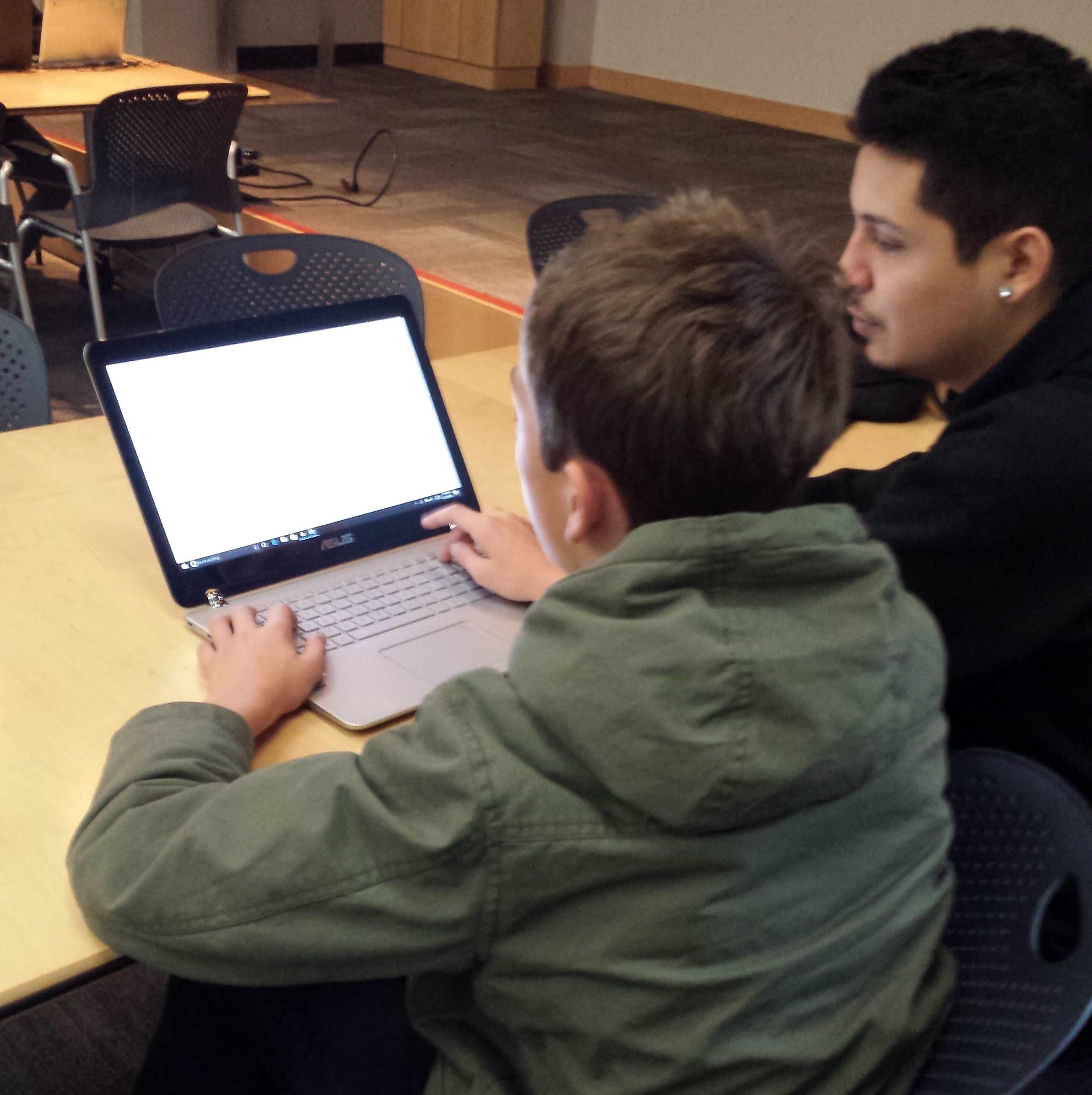 This is a great opportunity to learn a widely-used software in the video game industry. Each week students will get hands-on experience navigating this software, creating their own worlds, and most importantly writing scripts to make objects in their world behave like video game objects! Students will learn how to create a character that is able to move, jump, shoot, and interact with the world. Students will also learn how to create user interactive features that allow them to expand on their project. This is one of the most advanced topics we teach and requires a significant amount of coding experience; luckily, students can gain this experience by learning Beginner and Intermediate programming languages at our workshops!
Enroll Now
Frequently Asked Questions
Where do you get your curriculum?
ThoughtSTEM uses its own project-based curriculum. Our curriculum has been developed by our co-founders, PhDs in the field of computer science education.
Does my child need to bring their own computer?
Your child is welcome to bring her or his own computer to the workshop. We have a number of computers available, however, if your child does not have a computer to bring.
When and where are ThoughtSTEM workshops held?
Presently, ThoughtSTEM workshops are held on Sundays. We run two workshops at UCSD, one from 10 am - 12 Noon and the other from 1 pm - 3 pm. (Click for Directions)
Who helps my kids at the workshops?
ThoughtSTEM has hired several undergraduate mentors to help mentor your kids. All of the mentors are highly qualified in both teaching and programming.
How do I sign up?
Use one of the links above to purchase your place in the workshop; enroll your student!
When do I pay?
You can pay online using one of the links above! When you add the workshop item to your shopping cart in your online store, you'll be asked to fill out some enrollment information about your child. You should receive a confirmation e-mail after you've completed the transaction online.
So how much does it cost?
The cost for one 2-hr workshop is $50, but there are currently several discounts available.
What are the current discounts?
| | |
| --- | --- |
| If you come for the whole day, each workshop is only $45. | 1-Day Discount |
| If you bring 2 siblings from a single family, each workshop is only $40. | 2 Sibling Discount |
| If you bring 3 siblings from a single family, each workshop is only $30. | 3 Sibling Discount |
| If you purchase 10 workshops in advance, each workshop is only $35. | 10 workshops |
| If you purchase 30 workshops in advance, each workshop is only $30. | 30 workshops |
| If you purchase 50 workshops in advance, each workshop is only $27. | 50 workshops |
| If you're UCSD staff/faculty, each workshop is only $40. | E-mail us at contact@thoughtstem.com to get access to this discount. |
If I purchase 10 or more workshops in advance, does my student have to attend the next consecutive workshops?
No! We will keep a "punch card" for your student to keep track of the workshops attended. This way your student can miss a workshop here and there without any problem.
Can I as a parent stay at the workshop or do I have to leave my student there alone?
Parents are always allowed to stick around during the workshops. We would encourage you to let your child do the projects on their own, but you are welcome to learn with them!
Is it a problem if my student can only come every other week?
It's not a problem at all! We've designed these workshops so that students can jump in at any skill level at any time. We have challenges available for all skill levels and our mentors will help your student decide which challenges would be best to pursue.