Join Us Every Sunday for Fun, Flexible 2-hour Coding Workshops at UCSD!
Note: Weekend workshops at UC San Diego are postponed until the COVID-19 pandemic subsides. In the meantime, ThoughtSTEM instructors are teaching Online Coding Club sessions through our new non-profit, MetaCoders! You can learn more about these live, online classes here.
Workshop Details
Time
Every Sunday at UC San Diego there are two different workshops:


Morning Session: 10am - 12pm




Afternoon Session: 1pm - 3pm

Place
UCSD Computer Science Building, Room 1202 (See FAQ section below for Directions)
Grades
1st-10th
Enroll

1 workshop for 1 student ($50 per workshop): Enroll Now!

Discount for 2 Sessions - Same Day (plus monitored lunch break) for 1 student ($90 per day): Enroll Now!

Have more than one student? Want to buy workshops in bulk? Discounts Available
More info: Call (858) 869-9430 or email us at contact@thoughtstem.com
A Fun Way for Your Child to Learn Computer Science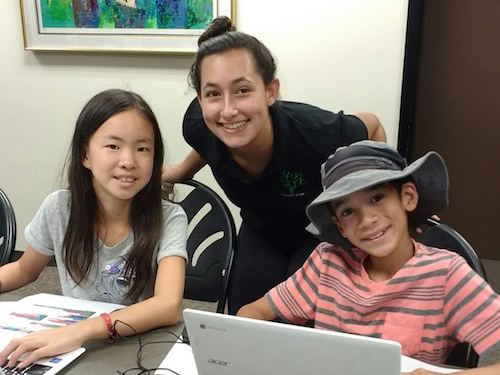 Write code. Earn badges. These are fast-paced, fun workshops where students of all ages work through a curriculum designed to get students coding their own video games (not just playing them). Students can join at any time and start earning their very first programming badges. No lectures; students learn by doing with the help of our expert Coding Coaches.
Designing Video Games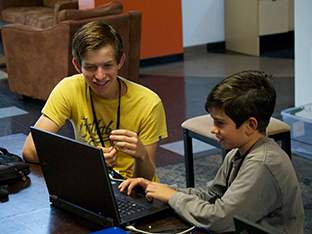 We've designed innovative coding curriculum that teaches kids how to design their own games with code. The beauty of video games is that they can be incredibly simple or incredibly complex, which allows us to design computer science curriculum for students of all grade levels! We want to show students the joy of coding, so we're teaching them through the media they already love. We'll be rotating through our video game curriculum every couple of months, so students will always be learning new content with us!
Badges: A Marker of Achievement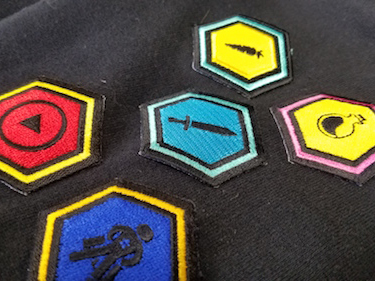 As students advance through our curriculum, they earn physical badges. These badges are a reminder of the progress they've made in their understanding of computer science and also a cool thing to show off to their friends. There are three badges for each video game type we teach. Badges can be ironed on or sewn on to anything, but students often prefer to sew them onto a ThoughtSTEM hoodie that our Coding Coaches also wear.
Learning the Language of Computers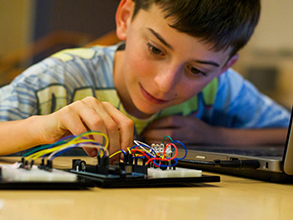 Scientists have found through fMRI studies of programmers that reading and writing code uses identical parts of our brains as we use when speaking and trying to interpret foreign languages! So why isn't coding taught as if it were a foreign language? We're drawing on decades of language learning research in order to teach coding to kids more effectively. Computers are everywhere, and in the future, there will only be more computers and more jobs where people need to be able to communicate with computers! We're working to make sure all of our students are fluent in this language.
Enroll Now
Frequently Asked Questions
Where do I park and how do I get to CSE1202 at UCSD?
Plug "Lot P510, UCSD" into Google Maps. This will take you to a parking lot near the Computer Science & Engineering Building on campus. Make sure you find a parking ticket machine so that you can pay for parking (see FAQ about parking below.) After you've parked, plug "UCSD Computer Science and Engineering" into Google Maps. This will take you on a walk down Voigt Drive towards the CSE building. The room where the workshop is generally held, CSE1202, is on the 1st floor of the building.
Is parking on campus free?
Parking on campus is no longer free on weekends, except for the first hour. But even if you only plan to stay for an hour, you need to get a valid permit and put it on your dashboard. There are parking ticket machines all over campus that takes cash or card; use a machine to print out your permit and display it on your dashboard. Parking is $1.50 for 2 hours.
Where do you get your curriculum?
ThoughtSTEM uses its own proprietary curriculum designed by our team of computer science education professionals, including PhDs in the field of computer science. We've designed our curriculum based on the most current education research, with a focus on fun and engagement to keep students coming back for more computer science!
Does my child need to bring their own computer?
We recommend students not bring a computer to the workshop, but instead use the computers we provide that are pre-installed with all the software necessary for learning with our Coding Coaches. If you're interested in installing the software we're using in our workshops at home, however, email us, and we can get you setup!
When and where are ThoughtSTEM workshops held?
Presently, ThoughtSTEM workshops are held on Sundays. We run two workshops at UCSD, one from 10 am - 12 Noon and the other from 1 pm - 3 pm. (Click for Directions)
Who helps my kids at the workshops?
ThoughtSTEM has hired several undergraduate and recent grad instructors to help mentor your children. We call them Coding Coaches. All of our Coding Coaches are highly qualified in both teaching and programming.
How do I sign up?
Use one of the links above to purchase one workshop or multiple workshops for your child(ren)! You'll be asked to supply some basic information about yourself and your child(ren) at checkout so that we'll be able to verify your purchase when you arrive.
When do I pay?
We recommend purchasing a workshop before you arrive to save time on the day of the workshop. You can purchase using a credit or debit card, and you should receive a confirmation e-mail after you've completed the transaction online. If you forget, you can also purchase the workshop at UCSD when you arrive. Our staff can help you through the checkout process online. Our staff is not able to take cash or check at the workshop, so make sure you come prepared with a debit or credit card.
The cost for one 2-hr workshop is $50, but there are currently several discounts available:
| | |
| --- | --- |
| If you come for the whole day (both the morning and afternoon workshop), each workshop is only $45. | 1-Day Discount |
| If you bring 2 siblings from a single family, each workshop is only $40. | 2 Sibling Discount |
| If you bring 3 siblings from a single family, each workshop is only $30. | 3 Sibling Discount |
| If you purchase 10 workshops in advance, each workshop is only $35. | 10 workshops |
| If you purchase 30 workshops in advance, each workshop is only $30. | 30 workshops |
| If you purchase 50 workshops in advance, each workshop is only $27. | 50 workshops |
| If you're UCSD staff/faculty, each workshop is only $40. | E-mail us at contact@thoughtstem.com to get access to this discount. |
If I purchase 10 or more workshops in advance, does my student have to attend the next 10 or more consecutive workshops?
No! You don't have to purchase consecutive workshops. However, you should make sure to attend the workshops within the timeframe specified at checkout. We will keep a digital "punch card" for your student to keep track of the workshops attended. This way your student can miss a workshop here and there without any problem. If you ever have any questions about how many workshops you have left on your digital punch card, email us at contact@thoughtstem.com.
Can I as a parent stay at the workshop or do I have to leave my student there alone?
Parents of 1st graders are actually required to stay at the workshops with their children. But parents of children in higher grade levels are always allowed to stick around during the workshops, too. We would encourage you to let your child explore coding on their own, but you are welcome to also learn with them!
Is it a problem if my student can only come every other week?
It's not a problem at all! We've designed these workshops so that students can jump in at any skill level at any time. We have curriculum available for all skill levels and our Coding Coaches make sure your student is working on the right curriculum for their skill level.
Can I drop-off my student without parking?
Yes! One of our instructors will be waiting along Voigt drive, at the cross walk where there's a bus stop, right next to the CSE building so that you can pick-up and drop-off students with us without parking. Instructors will be posted for 10 minutes directly preceding each workshop and 10 minutes directly after each workshop. Because our instructors will go inside as soon as the workshop starts, if you're running late and miss the 10 minute drop-off window, you'll need to park and walk your student inside.
What is your refund policy?
You can find our refund policy for Sunday Workshops at the bottom of our Terms and Conditions page here.