We all know STEM has been traditionally male-dominated and women have been underrepresented in tech careers; however, as more companies embrace the value of diversity in the workplace, significant efforts have been made to encourage more females to pursue STEM in the classroom and in their careers. The results of these efforts are gradually being realized.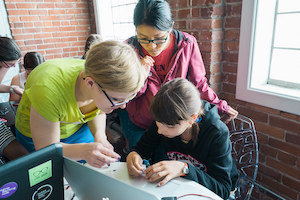 In 2016, Dartmouth became the first national research university to graduate more women engineers than men. Women are also outpacing men when it comes to increased numbers of STEM degrees and certificates. From 2009–2016 the number of STEM degrees for women grew 48% vs. 38% for men (although men still obtain more than twice the degrees and certificates versus women). So while women are establishing their footprint in the STEM ecosystem, there is still a long way to go - women constitute almost 50% of the overall labor market, but only 28% of the STEM labor market. With STEM jobs projected to grow faster than non-STEM jobs, and STEM jobs paying higher salaries than non-STEM jobs, there is an incredible opportunity for women to close the gender gap in this exciting field.
This is exactly why ThoughtSTEM is so passionate about engaging girls in coding at an early age. We look to inspire a passion in the next generation of STEM leaders - and we think a lot of these leaders will be the girls we "coach to code" today!
Here's an interesting data point that shows the impact of "Girl Power": Nine coding languages were developed by women!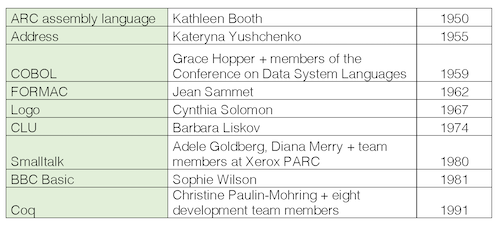 The power of STEM education goes far beyond developing new programming languages. Proficiency in STEM develops critical thinking, logic, and problem solving skills which are essential in any career. So, as we look to prepare the leaders of tomorrow, let's take a look at some impactful women in STEM and how they have shaped our modern world!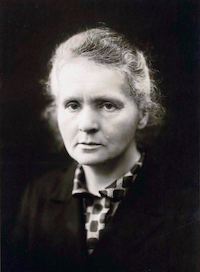 Marie Curie (1867 – 1934)
Marie Curie, was a Polish-born French physicist and chemist who pioneered the study of radiation. In the late 1800's, she discovered two new elements - radium (Ra) and polonium (Po). She went on to earn a Ph.D. and win two Nobel Prizes. Alongside her husband, Pierre Curie, she received the 1903 Nobel Prize for Physics for discovering radioactivity. In 1911, she was the sole recipient of the Nobel Prize for Chemistry for isolating pure radium. Curie was the first woman to win a Nobel Prize and the only person who has ever won Nobel Prizes in both physics and chemistry. Madame Curie's work is the foundation for the treatment of tumors using radiation therapy and has influenced subsequent generations of physicists and chemists.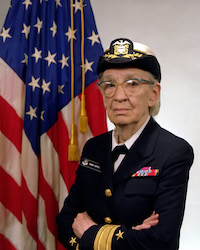 Grace Hopper (1906 – 1992)
Grace Hopper was an American computer scientist and a pioneer of computer programming. She was one of the first programmers on the Harvard Mark 1 computer, used in the war effort of World Word II, and popularized the idea of machine-independent programming languages. Her work led to the development of COBOL, a programming language still in use today. COBOL was a new language based on English words - the idea was initially dismissed under the premise that "computers didn't understand English." However, she persisted for 3 years, insisting that it is easier for people to write an English statement than to use symbols. COBOL subsequently became one of the first and most popular programming languages. Hopper went on to serve as the director of the Navy Programming Languages Group and advocated for the Defense Department to implement networks of small, distributed computers with access to common databases located on a central network.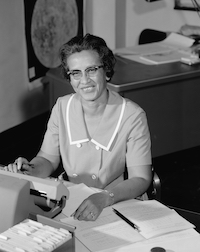 Katherine Johnson (1918 - )
Katherine Johnson is an American mathematician who calculated and analyzed flight paths for NASA's spaceflights. She joined NASA in 1953 to work amongst a "pool of women" performing math calculations, referred to as "computers who wore skirts." At the time, women did not hold key positions in technology; in fact, they were not allowed to put their names on reports or attend meetings. Johnson faced further challenges as an African-American, working in a segregated pool where she was expected to work, eat, and use restrooms separate from her white peers. Johnson quickly overcame these obstacles as her knowledge of analytical geometry and orbital mechanics, coupled with an assertive attitude, earned her the respect of white male colleagues and supervisors; she began to attend meetings and write her name on reports. Johnson spent over 30 years with the U.S. space program and was instrumental in launching the first U.S astronaut to space, the 1969 Apollo 11 mission, and the space shuttle program. Johnson received the Presidential Medal of Freedom in 2015 and in 2016 NASA established the Katherine G. Johnson Computational Research Facility in her honor.
Rosalind Franklin (1920 – 1958)
Rosalind Franklin was an English chemist who worked to discover the molecular structure of DNA, a principal component of chromosomes that encode genetic information. Franklin pioneered the use of X-rays to create images of crystallized solids to analyze complex, unorganized matter. She applied X-ray diffraction techniques to understand the patterns of DNA molecules; that work was the foundation to determine that DNA is a polymer consisting of two DNA strands wound around each other - the DNA Double Helix. Franklin also contributed to understanding the structure of viruses, most notably the Tobacco Mosaic Virus (TMV), that causes damage to flowers, leaves, and fruit. Franklin died at age 38 of ovarian cancer. After her death, her work, including Photo 51, an x-ray depicting a strand of DNA (shown on left), was used by James Watson and Francis Crick who went on to earn the Nobel Prize for the discovery of the shape of DNA. Although her life was cut short, her legacy carries on as there are many facilities, scholarships, and research grants named in her honor.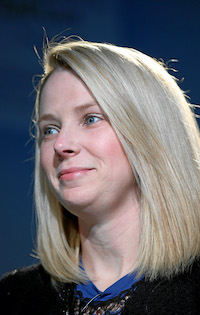 Marissa Mayer (1975 - )
Marissa Mayer is an American technology executive. After graduating from Stanford in 1998 with a BS in symbolic systems and MS in computer science, she was offered 14 jobs. She joined Google as the company's first female software engineer and employee number 20. She was instrumental in developing the Google search engine and designed the interface for Google's home page; she is credited with increasing the daily number searches from a few hundred thousand to over a billion. She was also behind the development of Gmail, Chrome, Google Maps, and Google Earth. She was considered a key innovative asset at Google and in 2012 was recruited by Yahoo! to become CEO at age 37. Mayer was pregnant at the time - reinforcing the concept that working mothers can do anything, including running a global Internet services company. Mayer's tenure at Yahoo! had highs and lows, but ultimately the struggling company was sold to Verizon and Mayer stepped down in 2017. Mayer has kept a low profile since her departure from Yahoo! although she recently revealed she co-founded, Lumi Labs, a tech incubator focused on artificial intelligence based out of her old Google office space. Mayer serves on the boards of Walmart, Stanford Children's Hospital, the San Francisco Ballet, and the Forum of Young Global Leaders at the World Economic Forum.