10 Best STEM Holiday Gifts to Teach Your Child Coding
As the holidays approach, many of us grapple with the recurring question we face each year - "what can I get the kids for the holidays?" If you are like me, you want to give them something that evokes a smile when they unwrap a present, but that is also valued and used long after the holidays. Something that goes beyond temporary gratification. While most of us would be thrilled to give a gift that lasts for years, wouldn't it be fabulous if we could give gifts that could last a lifetime?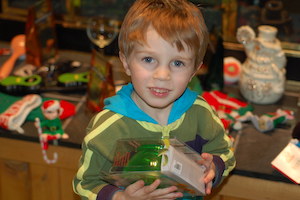 Those of us at ThoughtSTEM have been gifted with a love of coding - the true gift is that we have been able to develop careers from this passion. What if you could give your kids the gift of learning and developing their own passion? And wouldn't it be amazing if that passion inspired a future career for your child? According to a Burning Glass study, jobs involving coding pay 35% more than other career track jobs, and demand for programming jobs are growing 50% faster than overall job market growth. Given we live in a digital world where our phones, banks, traffic signals, and hospitals rely on computer coding, it is inevitable that the demand for programming careers will continue to increase.
But we know that we cannot wrap learning and passion into a pretty package with a bow on top - and let's face it, kids of all ages like to play. Luckily, there are several engaging gift ideas to get kids excited about STEM and hooked on coding and the ThoughtSTEM staff would like to share some of our favorites with you.
1. Code and Go Robot Mouse Activity Set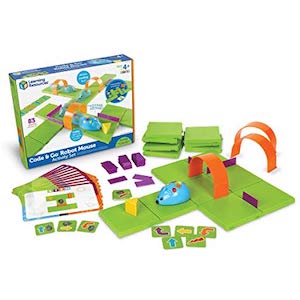 Learning Resources
Age 5+
$59.99
Buy on amazon.com
Kids develop critical-thinking and problem-solving skills as they create a structured path for Colby, the programmable robot mouse, to reach the cheese. Kids build mazes using guidance from 10 activity cards and then use coding cards as a guide to "program" Colby to navigate through the maze. Kids will have fun without a tablet or apps and will learn basic coding logic as they input step-by-step instructions for Colby to get the cheese. Colby lights up, makes sound, and has color buttons that match the coding cards - making it easy for kids to program, sequence, and learn.
2. Ozobot Bit Learning Robot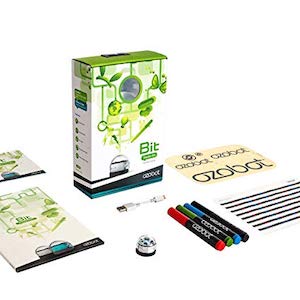 Ozobot
Age 6+
$59.00 Buy on amazon.com
Ozobot is a tiny robot that can go with your child anywhere and offers simple, fun, and creative programming experience. Using its downward facing camera, the Ozobot follows hand-drawn line patterns and detects colors which correlate to different commands. Kids can unleash their creativity as they watch their Ozobot take on new paths and different sequences of commands. And what's best - the Ozobot arrives assembled - so kids can start playing and learning right away! There is also a convenient carrying case (purchased separately) to take the entire Ozobot kit anywhere.
3. ThinkFun Code Master Programming Logic Game
ThinkFun
Age 8+
$29.99
Buy on amazon.com
Codemaster teaches programming logic through a family board game that is fun for kids and adults. There is also a single player option. In Codemaster, players are given a map and must write a program to guide their avatar through an exotic world to collect Power Crystals. Writing a program consists of methodically structuring a series of action cards on a scroll guide. The avatar executes the entire program as written, giving players an opportunity to see where the program actually landed their avatar; players also "debug" the program to get the avatar back on track. Multiple levels present increasingly challenging courses and obstacles. Families will have fun and problem solve as they try to get each avatar safely to target.
4. How Technology Works: The Facts Visually Explained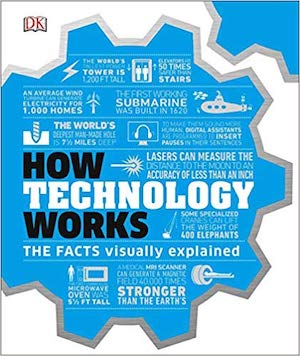 DK Books
Ages 10+
$16.99
Buy on amazon.com
How Technology Works unveils the technology behind everyday products from can openers to smartwatches. Step-by-step details complemented by simple graphics dissect devices and demonstrate how they work. How Technology Works will allow the reader to realize that at the core of every invention is a structured series of steps that when properly constructed and executed, ultimately solve a problem! How Technology Works is perfect for anyone who is curious about technology and innovations in the modern world.
5. Code Your Own Games!: 20 Games to Create with Scratch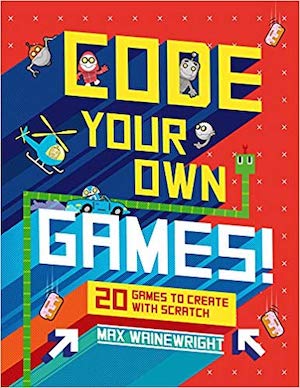 Max Wainewright
Ages 6+
$11.99
Buy on amazon.com
This hardcover book gives specific instructions to build 20 different computer games using Scratch, a free programming language developed by MIT. Kids log onto scratch.mit.edu to interact with the coding platform which consists of various command blocks. This book gives step-by-step instructions, including Scratch screen shots, so kids can follow along as they build their command blocks. Students then follow the book's instructions to sequence their command blocks into a program which ultimately drives the game. There are five levels of games to help beginners become coding experts. Kids will have a blast writing actual code and see their game come to life on their computer.
6. Code Piano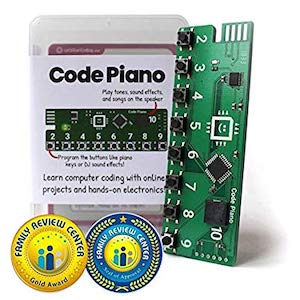 Let's Start Coding
Ages 8–12
$34.99 Buy on amazon.com
Give the gift of music, coding, and creativity with Code Piano, an interactive learning toy that plays music based on code commands. Students connect the 8-key circuit piano to a PC, Mac, or Chromebook using a USB connector port (included). Using the downloaded app from letsstartcoding.com, students write code guided from the code cards. Students will delight as their commands come together to play music! Code Piano is compatible with Microsoft Windows, Mac, and Chromebook computers or laptops. An internet connection is required to access the app for projects and coding.
7. Kano Computer Kit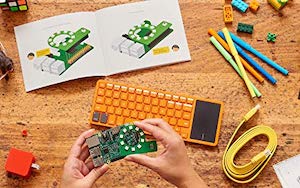 Kano
Ages 6+
$149.99
Buy on amazon.com
This gift allows kids to do it all - build their own computer that they can subsequently program. Students will receive step-by-step instructions to assemble their "CPU" which plugs into any HDMI screen such as a TV or PC monitor. Students use the wireless keyboard to type commands and code and then see their programs come to life on the connected screen. Through the Kano community, there are 100's of creative challenges and games, as well as art and music stimulating students to play and learn. A step-by-step booklet of instructions and access to 100+ coding challenges and apps are included.
8. LEGO Boost Creative Toolbox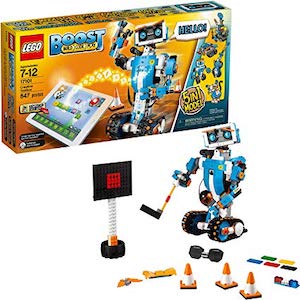 Lego
Ages 7–12
$159.99
Buy on amazon.com
Kids will be immersed in the creative world of coding as they create and program 5 robots using this set's 847 LEGO pieces. Kids will construct and code Vernie the Robot to dance, rock out on the Guitar4000, foster Frankie the Cat, interact with the Autobuilder, or explore a new discovery with the Multi-Tooled Rover 4. The creativity, coding, and opportunities to learn are endless! The LEGO Boost requires a tablet or mobile phone and is compatible with selected iOS, Android, Kindle and Windows 10 devices.
9. Gravity Maze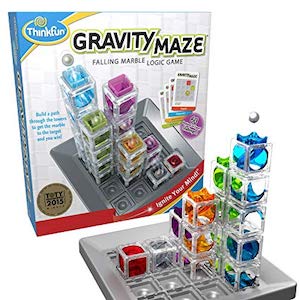 Thinkfun
Ages 8+
$29.95
Buy on amazon.com
Critical thinking skills are put to the test in this single player game that is suitable for kids and adults. Players are to get their marble to the target tower by creating a maze using guidance from an instruction card. The player drops the marble, but the marble may not always get to the desired destination - meaning the player must "debug" their tower construction until the marble successfully reaches its intended target. Gravity Maze is a combination logic game, marble run, and STEM toy that contains 60 challenges from beginner to expert. Gravity Maze builds spatial reasoning, logic, planning, and problem-solving skills and provides a great learning experience for players.
10. Coding Workshops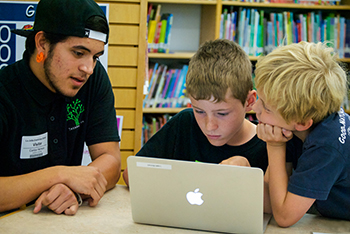 ThoughtSTEM
Grades 1–10
$50
Enroll on ThoughtSTEM.com
Our 2-hour Sunday workshops are fast-paced, fun sessions where students of all ages work through a curriculum designed to code their own video games (not just play them). Students can join at any time and start earning their very first programming badges. No lectures; students learn by doing with the help of our expert Coding Coaches. Click here for more information and schedule.