Employee Highlight: Sara Lucchini
Recently I had the chance to sit down with Sara, who works with all of our instructors and helps them prepare for their teaching assignments. Additionally, she is responsible for many other tasks as a part of the ThoughtSTEM team. She provided insight on the curriculum used by ThoughSTEM instructors and how she became involved with the company. All of the curriculum she and the team makes help benefit your students in our programs.
What is your role at ThoughtSTEM?
I have many different roles around here actually! For instance, I am a member of the curriculum team. That means I help set up curriculum for our after school programs and summer camps.
Additionally, I am responsible for training our instructors both when they get hired, and in training them on new material. I visit the school sites when we have new instructors working there, or a new campus we are at.
How has ThoughtSTEM changed, especially with your role, since you got involved?
Our curriculum has completely changed and improved. We are not just teaching computer coding, but the concepts behind it — such as how a language is made. Our classes were project-based, but now we teach a fluency-based learning style.
We now have an intern program I helped create. Every summer we have a couple dozen interns, and it is very exciting. We just finished up this year's program, and it was a huge success.
Our curriculum is getting more and more fine-tuned every year. We believe learning computer science engages the same part of the brain as working with human language. Rather than coming from a mathematical perspective, we approach it from a language perspective. We try computer science immersion techniques, repetition, memorization. I really like how it works for all students.
What initially got you involved with STEM education?
I started out here as an after school instructor four years ago and that grew into this role. I have taught for years — but almost entirely performing arts — so I was a little intimidated to take on computer science education. I was game to try something new, and ThoughtSTEM staff believed in and supported me, so here I am!
What are your goals with your job now? I have really learned a lot of computer science and coding skills in this job, and the skills I have gained are really practical.
One of the best parts of ThoughtSTEM is that I get to work on a lot of different tasks. We all help each other out here, so I do different things each day because of our small company status.
What do you enjoy most about working at ThoughtSTEM?
I enjoy the company culture — we value the people that work here. Since I am a manager at this company, it is my job to help perpetuate this trend to all staff, and I really work hard at that.
Creating a space where people feel comfortable and safe creates an environment where everybody can grow. Additionally, I enjoy the people I work with. They are genuinely fun people to be around.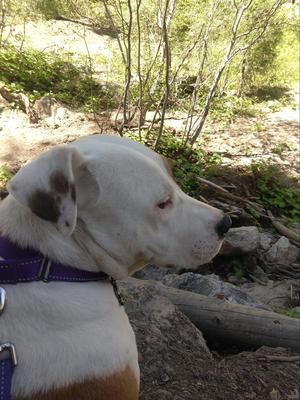 When you're not working at ThoughtSTEM, what do you do for fun?
I am in theatre. My background is acting, performing, and house management. I like swing dancing, hanging out with friends. I have a dog! Their name is Lana.