Intern Highlight: Allison Moya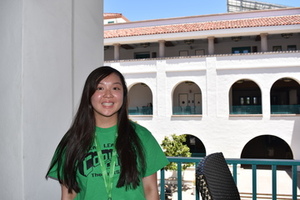 Recently I got a chance to sit down with Allison Moya. She is one of our summer interns helping out at SDSU. We really love having her be a part of the team and working with us.
Hey Allison! Can you tell me a little about yourself?
Hey! I am Allison. I am seventeen and an intern at ThoughtSTEM this summer. I am about to be a senior at the Academy of Our Lady of Peace, located right in North Park. I live in National City.
What did you do before you started interning with ThoughtSTEM?
I was really focused on high school all of spring semester. I am excited it's summer now because when I am not working here, I can relax and enjoy the day!
What was your initial attraction to ThoughtSTEM?
I was looking for an internship to help with college. Since I am entering my senior year of high school, these decisions are really important to me. At my high school, I am part of the robotics team. It's been a fun way to explore my creative side in a technical way. Coding seemed like a similar avenue for that. It really interested me. I've tried a little coding at home, and it was fun, but I wanted to see how professionals code.
How are you feeling about your ThoughtSTEM internship so far?
I have been here a week so far. I really like it. The people seem super friendly. This internship seems to be focused on my growth as a person learning these new skills. I find that at a smaller company like ThoughtSTEM, I have a say in some of the things we do. I help the instructors at our camps, and take some leadership roles. This is really great for me and my growth as a student looking to get ahead.
At first, I thought it would be hard… working with kids that is. It has definitely been a little different for me, but I really like it now! I like the relationships I have with the kids and seeing them learn. I think this is going really well!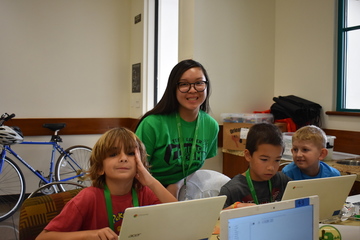 When you're not working at ThoughtSTEM, what do you do for fun?
I really like singing! My friends and I like to sing together. Lately it's been a lot of K-pop. And from what I remember, music uses the same part of the brain that coding uses. I also really like getting sushi with my friends; combine that with relaxing on the weekends, and I am doing great. This summer, I'm going to Comic Con. I am really excited! I like The Flash and The Arrow. In reality, anything that I do with people really keeps me going.