ThoughtSTEM Offers Classes to Parents at No Cost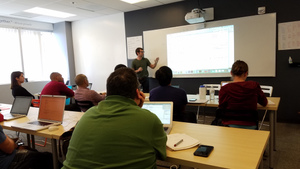 If you did not know, we are now offering free classes to all our parents and guardians of ThoughtSTEM students. I sat down with Stephen, who is in charge of the classes, and talked about what is involved, why we are running these classes, and what we at ThoughtSTEM hope to achieve through them.
So what do you do here at ThoughtSTEM?
Co-Founder of ThoughtSTEM. I implement all of the technology that powers ThoughtSTEM software and infrastructure as my day-to-day role.
Can you tell me a bit about the upcoming Parent Classes?
We have decided to start teaching computer concepts and programming fundamentals to parents and adults in the ThoughtSTEM community. We essentially have an hour long class where the parents are able to learn the ideas behind what their students are learning.
What will the attendees learn at these classes?
We're definitely gonna teach them how to code, but that's not the main point. The main point is to teach them how to learn to code. There are a lot of steps that you learn inadvertently that you should not. We want to teach the most fun and successful routes you can take in order to understand how to learn programming.
Why would somebody want to take these classes?
The main reason is for parents who have a child interested in coding. We know parents want to support their students in coding, however, are unsure how. In addition, I hope we have people who show up that are generally interested in coding and want to understand it for themselves.
What do people need to know in order to take this class?
Basic computer skills. Have you used Microsoft Word? Used an Internet browser? Then you have the skills to take this class.
What if a parent does not consider themselves to be a technical person?
Even better! We would not like a group of people who already know everything we are about to teach.
Does a child need to be currently enrolled in a ThoughtSTEM class in order for a parent to qualify?
We are going to give priority to people who are currently enrolled, however we also want our parents of students who have taken our summer camps for multiple years as well.
What is your motivation behind teaching these classes?
My mother. She actually taught me computer science. Though she taught me a lot of things, computer programming was what stuck out the most. I believe the case for that is because as she was teaching it to me, she was learning it at the same time.
It has become very clear to us that the students who excel the best at our classes have somebody at home who understands what the student is learning. Our mission as a company is to teach computer science to anybody who wants to learn, and in doing so we feel teaching parents helps the family as a whole understand the science behind everything.
Do I need to attend every session offered of this class?
No, these classes are not cumulative. However, we would really like you to come to as many classes as you can. In fact so much so that we are offering a discount on your child's next class after you attend three of these classes.
Is there anything I need to bring to this class?
Just yourself. We will even have laptops you can use!
Who is teaching these classes?
These classes will be taught by either myself or one of our curriculum developers.
Why are you doing this?
We believe that when the parents understand what the student is learning, the student learns better. Educations starts in the home, and we want to make sure we can empower the whole family to understand computer science principles.
How can people find more information about the classes?
If you have additional questions about our classes for parents or would like to sign up, you can message us on Facebook or email us at contact@thoughtstem.com